Tunis Business Center provides private furnished offices of varying sizes (from 8 to 1250 m2) and capacity (from 1 to 160 workstations) for periods ranging from one hour to many years.
Tunis Business Center provides all you need, including furniture and office equipment. There is no investment or initial costs, and you have the possibility to change your office size when your business needs change, with the certainty that you will always have the support of professional services, including a performing IT and communications infrastructure. Everything is provided:
Complete furnishings: desks, chairs, filing cabinets
Unlimited fiber optic internet access: 100 Mb by cable and Wifi in all offices
Multilingual receptionist to answer your calls.
Daily cleaning of the offices
Shared services – including heating, electricity and water.
Building maintenance and security system
Rent, property tax and building charges.
Building insurance
Access of office equipment: copiers, printers, fax, scanner, document shredder, etc.…
Possibility for a parking spot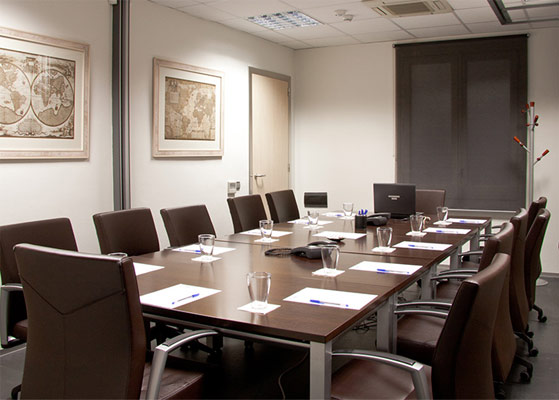 For information, below is a comparison between the costs in a "conventional" rental contract and the cost of an office within our business center.
Investment costs for setting up your office:
COMPARATIVE TABLE :
| Items | TBC Solution | Conventional rental |
| --- | --- | --- |
| Office Furniture | 0 | 2000 (basic model) |
| Meeting room furniture | 0 | 1500 (basic model) |
| Visitor facilities, decor | 0 | 2500 |
| IT and telecom Infrastructure: network, switchboard, phone extensions … | 0 | 5000 (basic model) |
| Office equipment: printer, copier, scanner, fax, etc… | 0 | 2000 (basic model) |
| Total | 0 | 12000 |
Annual operating costs of your office :
| Items | TBC Solution | Conventional Rental |
| --- | --- | --- |
| Annual rent | 12000 | 8400 |
| Electricity, water, building charges, air conditioning, heating… | 0 | 6000 |
| Personnel expenses (secretarial services, cleaning and maintenance services) | 0 | 10000 |
| Cleaning products, consumables, etc… | 0 | 1000 |
| Total | 12000 | 25000 |
Annual total costs for your office :
| Items | TBC Solution | Conventional Rental |
| --- | --- | --- |
| Initial investment | 12000 | 12000 |
| Annual operational costs | 12000 | 25000 |
| Total | 12000 | 37000 |